We offer more periods of teaching time than mosts sixth forms and college in the area, with 6 periods per day giving our students direct access to their subjects. This also means that our Academic year is two weeks shorter than most schools, leaving more time for potential independent learning, revision on the run up to exams and enrichment as well as time to recharge from busy Sixth Form life.
Below you will find our academic day and term times for the academic year 2020/2021
The school day begins at 8:30am. Students are expected to be with their form tutor from this time.
The school day concludes at 3:35pm.
| | |
| --- | --- |
| Lesson Period | Time |
| Registration / Assembly | 8:30am – 8:45am |
| Period 1 | 8:45am – 9:45am |
| Period 2 | 9:45am – 10:45am |
| Break | 10:45am – 11:00am |
| Period 3 | 11:00am – 12:00am |
| Period 4 | 12:00am – 1:00pm |
| Lunch | 1:00pm – 1:40pm |
| Period 5 | 1:40pm – 2:40pm |
| Period 6 | 2:40pm – 3:35pm* |
Academic year 2020/2021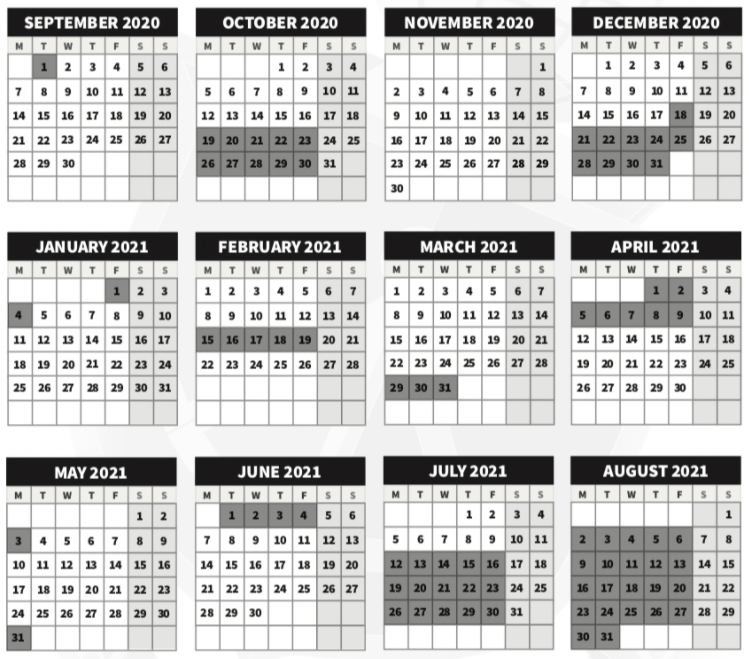 Autumn Term Holiday Summary
Monday 19th October 2020 to Friday 30th October 2020 (Academy closed – Half-term holiday)
Friday 18th December 2020 to Monday 4th January 2021 (Academy closed – Christmas holiday)
---
Spring Term Holiday Summary

Monday 15th February 2021 to Friday 19th February 2021 (Academy closed – Half-term holiday)
Monday 29th March 2021 to Friday 9th April 2021 (Academy closed – Easter holiday)
---
Summer Term Holiday Summary
Monday 3rd May 2021 – Bank Holiday (Academy closed to students)
Monday 31st May 2021 to Friday 4th June 2021 (Academy closed – Half-term holiday)
Monday 12th  July 2021 (Academy closed – summer holiday begins)