Welcome to our Virtual Open Evening 2020
This year our Sixth Form Open Evening is going online! Due to restrictions in place to support social distancing, we unfortunately cannot invite parents & students into our Sixth Form to see what we're all about. So instead, we're taking our usual open evening event online and providing everything you need to know about us! You'll get the chance to hear from our staff, virtually tour parts of our sixth form site and learn about the subjects we offer for the 2021/2022 academic year. There will be plenty for you to see so why not check it out?
We look forward to you joining us. Please check this page again on Monday 21st September 2020 @ 5:00pm

Welcome to the Sixth Form at Southmoor
Usually at this time of year we'd be inviting you into our sixth form to take a look around, learn about your course choices and meet our tutors and support staff. Unfortunately due to the ongoing Covid-19 pandemic and the social distancing restrictions around it, we cannot do that this year.
We're sorry you won't be able to join us. As an alternative to this, we've created this page to act as a 'virtual open evening' that will be live from Monday 21st September. You'll be able to meet some of our staff, learn more about what our students will be studying at secondary school and even take a virtual tour of our school!
This page will remain live from Monday 21st September, so please feel free to visit and take a look as many times as you like!
If you've already decided to study with us next year, you can submit your application by visiting this page and following the online instructions.
We hope you enjoy this page and look forward to seeing you soon, hopefully in person, in the near future. In the meantime, please take a minute to view an introduction from our Director of Sixth Form, Mrs Bagshaw.
The Sixth Form at Southmoor was established in 2014 to be a beacon of high aspiration in Sunderland. Five years later and we are providing exactly that for our students.
Whatever was you look at it, the Sixth Form at Southmoor stands out. On the simplest level, we consistently add value. We are one of the best performing Sixth Forms in Sunderland, our students are leaving us having gained  ground on their GCSE grades.
But headline figures only take you so far. What about the individual stories? The straight A/A* grades? The students taking up places on the most prestigious university courses in the country – from Politics, Philosophy and Economics at Oxford to Natural Sciences at Cambridge, from Veterinary Medicine at Glasgow to Pharmacy at Nottingham? Or what about those who've struggled – with family difficulties, with money troubles, with mental health – and who we've supported and seen thrive?
Even now we're only scratching the surface. We pride ourselves on being forward thinking and outward facing.
For those interested in vocational routes, both in Health and Social Care and Engineering, we have established a second partnership with Sunderland University.
And for the highly academic, we have our OxNet hub – Oxford University's first outreach hub in the North East. Not only does this give us a fantastic range of specialist lectures, visits and seminars, but the whole Sixth Form benefits from the advice and guidance of our network of academics and higher education professionals.
But most of all, I'm proud of the commitment we have made to our community. At around 230 students, with over a third from schools other than Southmoor, we are big enough to offer choice but small enough to pay attention to the individual. We believe nothing should get in the way of excellence, and as such we have introduced a new scholarship programme, worth £2600 per student, for a select group of academic students in tough circumstances.
So, whatever your background, whatever your aspiration, wherever you went to school, read on – and we look forward to seeing you again in September 2020!
Don't just take our word for it though, check the video below for and idea on what our students have been getting up to over the last few years.

Moving into Further Education can be a difficult time for anyone. To help with your move into Year 12 we have dedicated pastoral staff who are here to help guide you as you transition to working towards your A-Levels and other further educational courses. This can range from helpful advice, wellbeing support, study techniques, help with your application to Universities, careers information and much, much more. Whatever it is, we're here to give you a hand.
Below you will find introductions from our dedicated pastoral team, including pastorals leads and their supporting tutors. Take a minute to watch each one as they talk about what they can do to help you on your journey through Sixth Form.
We also want to ensure that everyone has exactly the same opportunities. There should be no barriers to learning, particularly financial barriers, and we help to eliminate these as far as possible. Like all Sixth Form centres, we offer a range of tailored financial support up to £1200 depending upon personal circumstances.

We also are pleased to offer our Sixth Form Scholarship Fund, a unique opportunity for a select number of students who meet our criteria – a scholarship to the value of up to £2600 per year of Sixth Form study available for up to 5 students on low household incomes or in other challenging circumstances.
Applicants must be academic, ambitious & willing to work hard.
The fund is open to students in Year 11 from across the Southmoor Multi Academy Trust, which includes those attending Sandhill View & Southmoor Academies.
If you think you would qualify as a good candidate for the fund, please feel free to contact us with any further questions you might have about the fund.
Scholarship Fund Case Study: Ricky Prentice 
Ricky was an outstanding student in all subjects, and showed a deep understanding of the different field of specialism and shows a genuine interest. In class, he often took a lead role in discussion and is confident in contributing and sharing his ideas. He worked well with other students and reflected positively upon their contributions. He was able to successfully develop an argument and to use evidence to support his views. His attendance and punctuality were to be commended, and balanced his sixth form work/social life effectively.
Extra-Curricular: Newcastle PARTNERS Summer School
Work Experience: Pharmacy
Grades: A Psychology B Chemistry B Biology
Destination: Newcastle University, Pharmacy
A message from Ricky: 
'The scholarship was one of the key factors in my success in Sixth Form. Instead of worrying about working to support my family, I was able to resources to support my studies, It has helped me stay organised with all my subjects like buying files for different and the travelling costs for my university interviews. My family wanted to pass on their thanks to you too – in times of pressures knowing there was this safety net helped us cope with the intensity of a level study – for this I am truly grateful.' 
If you are concerned at all about any other  financial barriers to learning, please do not hesitate to speak to us and we can discuss eligibility and the level of support that may help you.
We offer a lot of extra programmes and incentives to our students to help boost their learning in Years 12 and 13. Our programmes and extra curricular incentives are exactly the type of things discerning universities look for in potential students. Below, Mrs Ungley our OxNet and Raising Aspiration Coordinator speaks about our OxNet programme and gives details on our status as an OxNet Hub School for the North East and what that means. You can also find out more about our OxNet programme by clicking here.
It doesn't just stop there though. Extended Projects, Academic Enrichment, Global Perspectives, Work Experience and thriving partnerships with Sunderland, Newcastle and Durham Universities are all valuable extras we offer our students.
Work Experience Case Study: Gaby Reynolds & Elle Magazine
Gaby
has not wasted her time during the lockdown period and has been taking part in a virtual work placement with Elle Magazine. Gaby has been very successful at this and Elle have agreed to they have agreed to continue mentoring her for the next 12 months!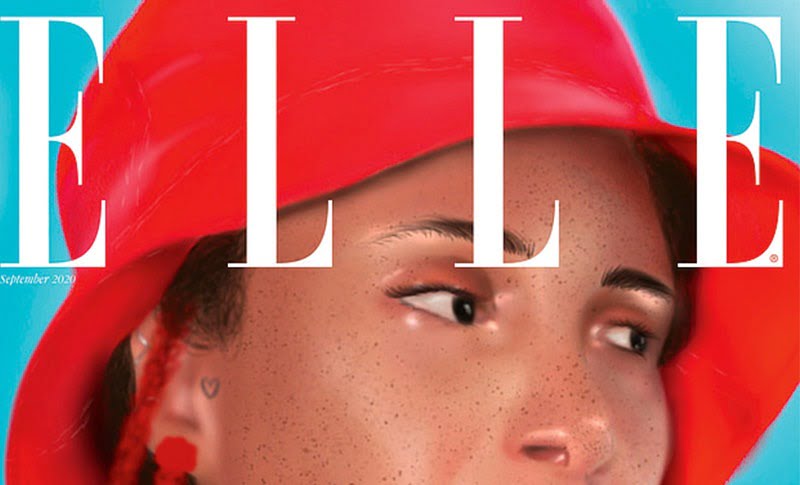 She was commissioned to create a piece of artwork that was to be based on the cover model, (photographed by Liz Johnson Artur) and her digital piece is being used for the subscriber's cover of the online magazine (as can be seen in this article ) which is an amazing achievement.  She has even managed a personal mention on the Elle UK Instagram page with regards to the artwork!
We love hearing about our students going on to show off their talents in the working world and strongly encourage students to practice their growing skills with work placements and independent study.

Our curriculum has been designed to give students the best possible future opportunities. We offer a wide range of A level subjects, but we also have a vocational and technical offer as well. All courses are equivalent in terms of UCAS points, and all will lead towards university study.
Our base entry requirements are grade 5 in English and Maths, with at least three other grades 5-9. We ask that the majority of students pick three courses to study in year 12. If students achieve 5 grade 7 or equivalent at GCSE they can elect to study four.
Technical and Vocational subjects have coursework elements and in some instances work placement. They are challenging in a different way, demanding commitment and organisation, but may be suitable if you struggle with the idea of exams.
Our teaching is geared around supporting students through the difficult early transition from GCSE, but as the course progresses, we look to ensure that students understand the core concepts and skills behind a subject, not just the best approaches to an exam. Above all, we believe that Sixth Form education is about enabling students to achieve whatever they aspire to in adult life.
You can find a list of the courses we offer below. Click the course your are interested in to find out more.
---
A Level Subjects
[wptb id=3925]
---
Non A Level Subjects
[wptb id=3926]

The Sixth Form at Southmoor is housed in a dedicated wing of the school, completely refurbished and redesigned for our first intake in September 2014. Sixth formers enjoy their own café, open from 8.00am every morning and manned by our catering staff, as well as study areas, a resource room, a computer suite, and classrooms furnished throughout with private study booths. All students have a locker to store their files in, and the newly refurbished toilets are for the exclusive use of Sixth Form students. Sixth form students also have exclusive access to their very own computer suite, science lab and entrance directly into the sixth form. You can take a look around yourself, browse the virtual tour below.
More Developments on the Horizon
This isn't everything though! Early next year we look forward to the completion of our first extension to the Sixth Form. We are currently re-developing a historical part of our school site. Southmoor House, a building with a long history the out-dates even our lower school, is getting a complete new lease of life as a part of our Sixth Form.
This redevelopment aims to provide not just increased capacity in the form of six new classrooms, including an equipped science lab, but also toilets and further office / storage and amenity areas. You could be among the first group of students to walk through its doors and enjoy learning in these brand new facilities.

Over the years we've helped our students achieve some truly impressive results as well as help them to realise their full potential as valuable contributors to our society.
Amazing Results & Fantastic Destinations
Many of our other students are now heading to some truly amazing destinations at the UK's top universities. Just this year an outstanding 43% of our students hold offers from Russell Group Universities. This includes three students heading to the prestigious Oxford University (more than any previous year), seven to Durham University and a fantastic 16 students to Newcastle University. Sheffield, Leeds, Glasgow, Manchester, Edinburgh, York and many other universities are some of our other top destinations for this year's cohort.
And it's not just about university – this year alone we have had students going to train to be a commercial pilot, to a degree apprenticeship at Siemens, and to study music at a conservatoire.
Here are just some of our top performers from this year's results. Will you be amongst them next?
Results Case Study: Laura Giles, Sunderland School of Medicine

Not only are we seeing great results and destination for our students as they move on to higher education, but we are now starting to hear back from students who  are now pursuing exciting and rewarding careers across the globe including medicine, teaching, sports scholarships and even cutting edge genetic research.
Southmoor Alumni Laura Giles, now in her second year of study to become a doctor was one of fifty students selected to join the state-of-the-art facilities at the new medical school in our very own city. The school boats dedicated partnerships with the region's NHS trusts that will see Laura benefit from learning all aspects of her future profession.
Grades: A* A* A*
Destination: Sunderland University School of Medicine
A message from Laura: 
"No one in my family has had a career in medicine, or health care for that matter, I'm the first.I'm so excited to get started I never thought that one day I would be going to medical school, so this is a dream come true."
We think our Sixth Form is a great place to start your journey to higher education, but don't just take our word for it! This year's Year 12 students  will tell you all about what they think as they embark upon their own way through our sixth form.
So what are you waiting for? If you'd like to become part of the growing success of our fantastic Sixth Form, then you can apply for your space in our 2021/2022 Academic Year.

Need to know more about is? That's great! If you fill out the below form we'll send you a Sixth Form Study Box, filled with all sorts of useful information, free goodies and gear.

Already decided to join us? That's fantastic! Click here to visit our online application page or download an application form from here and submit it to our main reception or the address below.
Thank you and we hope to see you soon, if you'd like to find out more about us, don't forget to take a look through our latest prospectus.